MyAbhyaas – At The Forefront Of The Skills Revolution!
Problem Of Skilled Human Resource as An Elephant In The Room!
While the capital resource is very important for the growth of any company, it is a known secret that corporate India is struggling big time, not due to lack of capital, but an acute shortage of 'skilled workforce'. As per one study by PricewaterhouseCoopers (PwC) on human resources in India, about 81 per cent of Indian CEOs views unavailability of key skills as the biggest threat to their growth prospects. This unavailability of right talent permeates across levels – from entry level to top-notch management positions. While a recent Gallup study found that at least 70% of people in management roles are not well equipped for the job, the situation at entry level is even worse. Based on a detailed study, the Associated Chambers of Commerce and Industry of India (Assocham) found that about 93% of MBA graduates in India are mostly 'unemployable'!
The key reason, says Ati Ranjan, the founder of MyAbhyaas, is an utter lack of hands-on training that limits students' ability to understand the application of knowledge in the real-world work environment. He further says, "there is a dire need of bridging the gap between theory and practice and help students develop critical thinking abilities. Technological development and automation are changing the employment market and are leading to an ever-widening gap between the skills people 'learn' and skills they need for actual execution."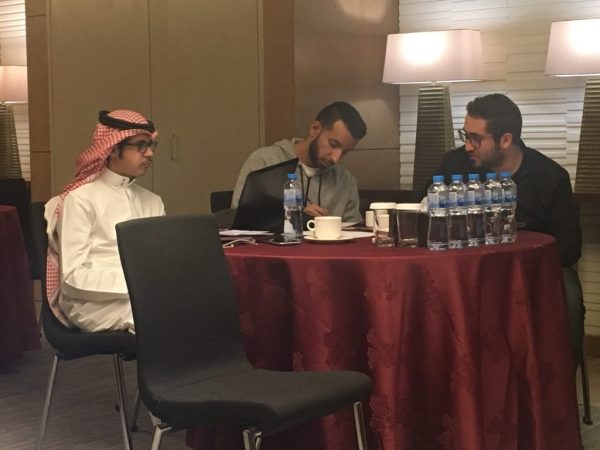 Ati would know better as he has experienced this pain himself! Before starting MyAbhyaas in 2016, for 14 years Ati was part of another sunshine industry – the high-end knowledge process outsourcing of research and advisory businesses from global banks, financial institutions, and hedge funds. Being a relatively new industry with ever growing demand, Ati spent a good amount of his time training and developing 700+ analysts during his stint.
Bridging The Gap Between Campus Education And Corporate Requirements
The genesis of MyAbhyaas – with a mission to help millions of youth acquire and enhance their skills and continue to remain relevant in the fast-changing work environment – happened when Ati and like-minded partners felt it is high time to take charge and start working exclusively on skills building of students and professionals.
Yet, MyAbhyaas' focus is not to be a run-of-the-mill online education platform! As a future-oriented organization, MyAbhyaas makes sure that the courses designed by it are helping students acquire relevant skills and attitude. Developing critical thinking abilities and fostering creativity to solve business problems are an integral part of all our technical training.
How does MyAbhyaas deliver it? The key differentiator, says Ati, is developing well researched, impactful and application focused training courses and getting them delivered through curated list of instructors and mentors. Ati further says "Our content is focused on boosting cognitive abilities and soft skills. We follow unique selection process for trainers, which allow us to ensure best in class training capability in the industry. Our curated list of instructors includes experienced professionals with a minimum of a decade of experience who are committed to systematize the entire process of transitioning a student to a through professional in the required area of expertise."
In the last 7 months, MyAbhyaas has trained 560+ participants from India and the Middle East across 6 professional courses through instructor-led live online classes. Ati is encouraged by the results! "So far we have received extremely positive feedback from participants with above average placements for them. We are planning to launch 3-4 courses a month in 2017."
Corporate L&D – A One- Stop Solution
MyAbhyaas has two focus areas. 1) to effectively bridge the gap between campuses and corporate and 2) provide ongoing skills acquisition solution to professionals and corporate houses. One borrowed phrase that you will often hear from Ati is "Learning curve is the earning curve. Well, in today's knowledge and the innovation driven business environment we couldn't agree more.
With corporate, MyAbhyaas is working as a Strategic L&D Consultant/partner and one-stop solution for meeting their L&D requirements. The entire solution framework includes:
1) Understanding the corporate strategies and future growth plans
2) Mapping the current skills and capabilities for the corporate
3) Mapping the required skills and capabilities to translate growth strategies into meaningful business results
4) In collaboration with the corporate, MyAbhyaas develops L&D programs with three-pronged approach ─ enhancement of technical knowledge, enhancement of soft skills and amplification of leadership abilities
5) High-quality content development – for classroom, instructor led virtual classes and self-paced e-learning and
6) Collaboration with technical team on LMS deployment.
Yet, one of the key problems for effective L&D delivery in corporate set-up is positively engaging the participants. This is understandable, says Ati, as any activity that increases time spent on "office related activities" beyond work requirements is frowned upon. The only solution is for learning to include elements of fun and healthy competition. Accordingly, MyAbhyaas extensively uses elements of gamification and other relevant features focused on enriching the learning process and fascinating the participants. Ati gives as example of an SME in manufacturing sector in Pune. MyAbhyaas launched a training program in different phases:
1. First week a competition around quizzes and "do you know" series with live results displayed on leaderboard. With the right focus on timing and types of questions, this activity generated huge participation!
2. Second & third weeks, e-learning content were launched in the form of 5-10 minutes' videos each. While the focus was on boosting conceptual learning, what helped high level participation was top notch content followed by gamification elements to help boost procedural and decision making abilities of participants.
3. Fourth week, further quizzes and rewards and changes in the best trainees' role & responsibilities
The idea was to make participants see learning as an enabler and an activity that adds value to them. Luckily, it ticked and the participation in subsequent training programs is higher.
New Initiative: Executive Education
As a next step, MyAbhyaas is developing cutting edge Management Development Programs (MDPs) for executive education in association with some of the leading institutes. Some identified areas in which MyAbhyaas is working include Data Science, Business Strategies, New-Age Human Resources, Leadership For The Middle Management and Corporate Finance.
Profile of Chairman, Ati Ranjan
Ati has 14 years of experience in investment research and business strategy. As Head of Investment Research (IR) at Aranca, a leading global research firm, Ati worked with scores of financial institutions. During his 12+ years' stint at Aranca, Ati was instrumental in growing the IR team 8-fold and has represented Aranca in various print and digital media platforms.
Ati Ranjan founded MyAbhyaas in 2016 with an aim to arming students and professionals with practical know-how to make them competitive and employable. Ati is a firm believer in knowledge as the key enabler and is working on democratizing learning leveraging technology and the power of Internet.
An Economics graduate and an MBA in Finance, Ati is an avid runner and regularly participates in various marathon. Ati is a certified trainer (Train The Trainer program) from Dale Carnegie, USA.
(As submitted to IndiStart team)