A new digital, yet natural solution to your skin problems.
Read the who and how ahead
Raw Home Essentials was an idea I, and Harshita (co-founder) came up with, 6 months back. Being young and conscious, we tried expensively, chemical based cosmetic brands, which did us no good, except spend our valuable pocket money.
In the end, we decided to seek help from nature. We were amazed by the homemade remedies & age old recipes which could resolve almost anything & everything, especially when the modern medical treatments hit a wall.
A doctor by profession and a wanderer by choice and well informed, I, started spending more time researching about Ayurveda and the various age old remedies which now have become almost extinct, with the new synthetic cosmetics riding high on marketing and false publicity! I chose to stay close to nature for it helped me connect with my body and soul and found a passion in Ayurveda. I used natural ingredients to make my own body enhancing products with magical results.
It was then, when Harshita, the co-founder of Raw Home Essentials, used her business acumen to turn this idea into a marketable product and made Raw Home Essentials a brand that is close to our true self and with a dream to bring it to the well-informed consumers.
With the thought and a punch line, "Don't put anything on your skin, you wouldn't eat" the brand was born!
It's been 2 months since we started this venture, and we have around 50 products today, which are 100% natural, chemical free, preservative free, and handmade with love.
Our products include: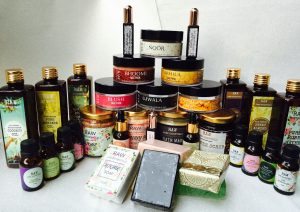 12 variety of handmade cold processed soaps.
3 luxurious Face and Body Scrubs.
5 different kind of face packs addressing to different problems.
Hair Mask
3 types of Face serums.
Pain Relief Roll ons.(Headache/PMS/Joint pain)
Body Mists
Pure Rose Water
Aloe vera Gel
Rose infused Glycerite
Hair Growth Oil
10 types of carrier oils, (cold pressed & extra virgin)
& over 30 varieties of essential oils.
We also tied up with a few Pet Brands, and made Natural, handmade Dog soaps, Shampoos and Body mists for Pets.
We also give free consultancy online, and give them DIY, homemade, easy to make recipes for there problems. We also make bespoke products, for the individual needs & problems, that a customer might be facing.
Raw Home Essentials is a luxury brand which anybody can afford. Our Motto is not only to sell natural products, but to spread the awareness of Natural & Ayurvedic treatments that has lost its way in this cosmetic & synthetic world.
Hundreds of new 'natural' Beauty brands come onto the market everyday, as people have started becoming aware that 'natural' is good.
However, there is a lot of confusion, between what is actually natural and what is not. A lot of brands spend a lot of money on advertising and using words like Natural/Chemical free and this has been fed to millions of people over a few years and sadly we have believed it to be the reality.
And brands who are actually natural & organic make it very difficult for the consumers to buy them by making it way out of budget for the commoners!
We want to break this pattern and design products which are Natural, luxurious and yet affordable to a big chunk of our society.
A few years from now, we hope to see a change in this cosmetic era and people aware of what they are using on their skin. We hope to create a green revolution and be able to reach out my products to as many people as possible. Also, we hope, us younger generation not underestimating the power of Natural and Ayurvedic healing. India is the root of Ayurveda and Yoga and today I see us Indians becoming Western while Westerners resorting to Ayurveda.
Being a doctor, Ihave always wanted to help people. I just happened to find a different method. Prevention is better than Cure. I want to help people adapt the healthier way of living, not only for you skin but also for the entire well being.
When I chose to follow this and create Raw Home Essentials, I found myself dedicated and happy. Although, I was constantly bombarded with questions about my future and my relatives advising me on how this is my secondary aim and my primary aim should be practicing medicine in a big super-speciality hospital.
I still choose to follow medicine by helping those in need, and give my services free of cost and give back what I have learned.
Lastly, our goal is to reach all the major sectors of the society and make it our social & economic responsibility to provide
employment
opportunities to lower sections of the society.
We also owe it to the environment by keeping it green and clean and not create any hazardous waste materials.