Fansmark is a fansclub application with the idea of social
networking
concept. With
fansmark app
every one can join and follow their beloved celebrities to get and share instant news, feeds, videos and news about the celebrities and follow other people and mingle with each other in a centralized way to turn fans clubs more meaningful.
SRK & Salman Bhai in the north. Rajnikanth, Kamalhaasan in the South. Dhoni, Sachin and Virat all over India. If there is one kind of population that makes up a sizeable chunk of the entire subcontinent of India, it is craziest fans of some popular celebrities.
From queuing at wee hours of the morning to catch the first day first show to chanting names at the top of their voice in jam-packed stadiums or buying merchandise at insane prices — fans do everything to demonstrate their loyalty to their movie stars, leadership, sports and celebrity personalities. They named this behavior as FANSISM
Although we can spot fans everywhere, rarely do we find an online presence of these fans. Fan clubs largely operate on an offline basis and meet only when a specific event related to the personality takes place.
Of course, there are Facebook groups, twitter hashtags, Instagram handles and many other social avatars that help fans to a certain extent to stay connected. But, a real online forum where fans can bond together and interact was missing.
It is this void that Fansmark app is trying to plug in. if one is to investigate the fan club statistics of India alone, it is found that there are one million and more registered fans clubs in India each with an average of 100 members. It is the target group that Fansmark is trying to penetrate, organize and make better with its fan-focused features.
Fan-focused features of the Fansmark app
Fansmark is one of a kind of a mobile app. It is designed keeping in mind the expectations, requirements and social behavior of fans and global celebrities. Here are some features that every fans can look forward to enjoying in the app.
Be in the know of every update about your favorite celebrities – FANSISM
Fansmark gives a separate portion to each celebrity and their fans, here everyone can mingle with like minded fans and this will let the fans people to engage with other fans by faster sharing the latest news on celebrities, trues behind rumors and real facts, social updates, teaser and trailer releases, seasonal greetings which is posted by other fans and much more.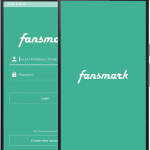 The content is monitored by an expert squad who flick away spammy or irrelevant content ensuring that fans get nothing but the right update about their favorite celebrities.
Gamification for ideal fan behavior – FAN MARKS
An ardent fan can go to extremes to show his/her Fansism to a celebrity. But, how does one get reward such selfless love and devotion? How does one encourage fans to bring out their best fan in them? how Fansmark solves this challenge by giving marks for fans for their ideal fan behavior. From going the extra mile to show devotion to setting the standard right through decent behavior — almost every kind of fan behavior can now be gamified.
Meet and connect with like-minded fans – FM ID/FAN ID
Nolan's fans talk about science. Quentin Tarantino fans romanticize nonlinear storylines. Rajni fans worship extraordinary actions scenes. When there is so much diversity amidst fans, how can one find, meet and connect with like-minded fans? Fansmark has fansism feature enables fans to connect with like-minded people.
Trivia cast and contests for fans – FAN FEEDS
A fan's life becomes one of pleasure when he/she is able to discuss their favorite movies and their fine details with other fans. Fansmark sets the stage for this with an abundant supply of trivia, cast details, quizzes and even contests for fans. Fans themselves can create these posts to kickstart discussions within a fan group.
From idea to app launch – the making of Fansmark
The groundwork for Fansmark was laid back in 2016. The founders, who are ardent fans of movies and sports celebrities themselves felt an acute need to create a unique online platform where fans can gather, and binge talk about their celebrities.
Continuous discussions led to the idea that the app should be more than a community. It should be a platform for fans to connect, exchange celebrity content and also accelerate their fan club activities and engagement.
The foundation for Fansmark was laid by "Gopinath Vairam" who is currently donning the hat of CEO. "Thamilvanan" leads as the Chief Technology Officer and makes the app fit for market release. The duo ensure that Fansmark gets maximum traction amidst diverse fan groups. "Dhilipan M" is the Marketing Lead who ensures that the online and offline presence for Fansmark is built from scratch.
The journey of entrepreneurship
Until Fansmark happened, all the founders were settled in comfortable jobs that promised safety, security and stable income. The leap of faith to become entrepreneurs is something that was least expected. But, once smitten by the entrepreneur bug, there is hardly any going back. One is driven by some invisible force to turn an idea into a reality and that reality into a feasible business project.
That's what drove the founders of Fansmark as well. They were confronted by a problem that they cannot turn a blind eye to. Instead of cribbing about it, they set to solve the problem by creating a mobile app that is easy to access, sign up and use for all. In the process, they hope to weed out spam, false news and rumors that are hating celebrity sentiments and their relationship with fans. But, building an app is easily said than done.