Voolsy is Bringing Cashless Trend in Ahmedabad's Food Court Business
Ahmedabad has witnessed a phenomenal transformation in the past few years. Along with its lavish malls, flyovers, and growing start-up culture, this city is becoming a popular destination for foodies all around the world. It is said that there is no better way to know a place than experiencing its street life. Ahmedabad's street food gives a unique identity to what this city is about. And today, Ahmedabad's street food is not just limited to the streets. It has transcended to food trucks and food courts – which provide an equally distinct experience. MOW – Meals On Wheel, Vastrapur and Karnavati Food Truck Park, S.G. Highway are the perfect example for this.
In the wake of demonetisation however, when industries across the country experienced major slowdowns, Ahmedabad's food trucks and food courts welcomed a new transition towards the digital economy. An Ahmedabad based start-up Voolsy has completely reformed the way these food outlets operate. It allows its users to view the menus of the outlets, read descriptions of the dishes, place their orders, make any customisations required and also pay through the app itself. Voolsy automatically detects the location of the user to make the ordering process easier, it does so through one of Apple Inc.'s most advanced technologies –  iBeacons. Interestingly, this is the first time iBeacons have been integrated with the restaurant sector in India.
Voolsy's major goal is to simplify the eating-out experience of foodies today. And it is well on its way to achieving this goal by consolidating the otherwise individual food trucks and food court outlets by giving users one common platform to access their menus, place orders and pay. Customers now, no longer need to go to each food truck or food court outlet to look at their menus, or wait in line to order, because they can now do so with a few clicks on their smartphone. And what's more is that users and vendors need not hassle around looking for cash or queue at ATMS, because Voolsy has integrated with online payment gateways PayTM and Mobikwik to ensure a smooth flow from ordering to payment.
Smit Nebhwani, Founder and CEO, Voolsy reiterates the vision of Voolsy as he states that "through Voolsy we wish to incorporate the use of advanced technology to provide a seamless and simplified experience to users while eating out. We believe that we are seeing the change in which people order food in restaurants and food courts and Voolsy will spearhead this change."
Amrish Patel, President, Voolsy stresses the significance of the app in today's scenario, "it is time we begin embracing technology and living up to the dream of Digital India. Voolsy has already partnered with restaurants in three cities; however street food outlets were lagging in the acceptance of this technology. But because of demonetisation they are also on board with the practice of cashless transactions."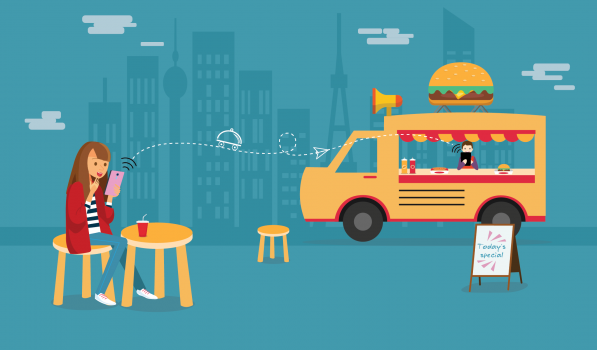 Launched only a year ago, Voolsy has more than 1 Lakh registered users and transactions worth Rs. 4 Cr. It currently operates in Ahmedabad, Mumbai and Bengaluru and has partnered with over 1000 restaurants. The app, which also has a manager version for restaurants, has successfully integrated with the best POS software companies in the country. Equipped with a highly talented and motivated team, Voolsy is well on its way to achieving its next target of partnering with 5000+ restaurants in a next few months. And you would soon be able to use Voolsy in cities like Goregaon, Chennai, Pune and Delhi.