Flintstop is an ecommerce venture that provides quirky, innovative and unique products. It is a one stop shop for all the 21st century products and has something for everyone; from kids to teens from working women to old men. The motto is "You've got a problem? We have a solution!" We cater in problem solving products that can make life struggle free.
No maid at home?  – Use our Robot Vacuum Cleaner
Entangled earphones? – Try our Zipper Earphones
Difficulty in getting yourself out of bed? – We have the Running Alarm Clock.
The vision is to be an inventor, look out for problems and come up with products that solve those problems.
Flintstop is working on building an Innovation Centre for people who have the product ideas but lack the skills to build those products. Here, they can turn their dreams into reality. Flintstop will also help them through mass manufacturing as well as Crowdfunding. The goal is to be known in history as life changing inventors.
Flintstop was started off in October 2014 with only 8 products, and today it has 280 products in multiple categories like ; Home & Kitchen, Electronics, Personal & Healthcare, Stationery, Augmented Reality, 3D Printing, etc. It does online sales through their own website and also sells on 34 different market places. Offline, they are available at mega retail stores and various exhibitions. A usual day at Flintstop is flourished with 100 – 150 orders a day and they have sales between 8-10 lakhs/month which is growing rapidly
Corporate Gifting is a significant category at Flintstop. It has succeeded in fulfilling multiple corporate orders for conglomerates like Etihad Airways, Roshan Publications, Godrej, Sun Pharma, Siemens, Aditya Birla Group and many more.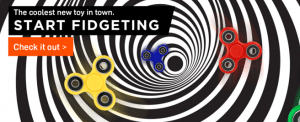 Tejas Jhaveri, the founder of Flintstop has always been fascinated with technology and toys. He attended an exhibition in Hongkong that showcased enticing products, that's when it struck him 'This is what I want to do'.  Flintstop was a one man show for the first 3 months where the founder took care of all the operations. As business picked up, he hired more people. Today he has a team of 12 full timers and 3 freelancers.