The media and entertainment industry in India is valued at over 1606 Billion INR in worth and the music industry alone is around 12 Billion INR and is expected to rise upto 19 Bn by 2019. India holds rank 20 in terms of global music industry size and if the projections and growth are steady, by 2019 it will be among top 10 global rankings.
In last few years, India has witnessed an eminent rise in the independent music segment with more and more artists starting their journey with just social media. Even then none of their compositions are any less than professional albums and are often prepared with the highest of standards and quality. But high quality studios and setup is not affordable or accessible by one and all, which makes a lot of talented artists lack behind.
World of Studios is changing that, any artists from any part of the country now have access to world class studios with state of the art equipment and qualified professionals to help them achieve their target and to bring out their compositions not just of better quality but better presentable and better marketable too.
Being the only platform dedicated to the recording studio market, it bridges the gap between the studios and the artists. With time, the platform will evolve into an end to end booking management platform enabling seamless and organized studio services across the country and overseas.
One of the founders, Kunal Kumar himself had trouble finding ideal studios when he was learning the art of composing music. It was then he realized the need of the platform. One can find and locate studios using Google or services like JustDial, however World of Studios goes a step beyond that and offer a detailed description of studio services and the ability to book the studio as per available time slots.
The name 'World of Studios' comes naturally as the studios themselves have an entire world of their own. The company is not only helping professional artists find the best studio for practice in different cities when they are on tours, it is also helping budding musicians with infrastructure for growth. By providing a platform and guiding about the place of practice, young musicians will be able to pursue their interests and talents in the music field more seriously.
Yush Bhardwaj, the cofounder of World of Studios was adherent about ease of access of the platform and insisted that the user should be able to book a studio in less than 5 clicks. With his skills and contacts, World of Studios also evolved as a platform for artists booking and collaboration, making the platform a one-stop solution for music composition. A music composer would be able to find singers, rappers, drummers, lyricists all on the platform.
India, the land of Bollywood and other big entertainment industries like Tollywood and regional industries has an insuppressible need of good recording studios to make it be recognized as a key player in the Global Entertainment Industry. A good recording studio not only will help movie makers or musicians but will also bring hidden talent across the country out in the open with the availability of right tools and services at their disposal.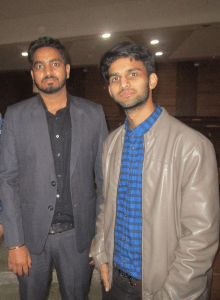 The founders, Kunal Kumar and Yush Bhardwaj – aims to empower these upcoming talent by establishing their reach in the remotest of locations across India and also overseas with time. The company is already in discussions with studios, media personnel and artists around the globe and an international expansion is on the cards in the near future.
Apart from this, the company also helps new studio owners or people who wish to establish their music or recording studios by offering consulting and great deals on hardware and software products needed to run a world class studio. The standard process in setting up and onboarding a new studio involves going through a checklist of items to ensure the studio performs at a basic milestone level which in turn ensures a guaranteed good recording.