Maitri's sole objective is to promote
Jaipur
textiles
' richness and precious local handcrafted skills that are hard to find.
Jaipur, a place where tourists arrive for heritage monuments, the timeless escapade down narrow aisles and obtain the vivid yet solemn beauty of Jaipuri textiles. In respect of Jaipuri textiles curated with love, local handcrafted skills, tracing timeless Rajasthani patterns such as Bagru, Gota Pati, Zari-Booti work, Maitri, by Varuna and Sandeep Verma is inspired by Jaipur's heritage beauty, elegance giving a royal yet comfortable touch to all the hand-woven pieces we offer.
Being Vocal to local art, skills, and efforts
Being vocalized to the old Rajasthani traditions, patterns, and designs, we have curated an amalgamation of western style. They incorporate eco-friendly luxuriance providing an extreme sense of comfort, elegance, and refined beauty.
Maitri is inspired by the Rajasthani beauty that derives from its heritage intertwined with royal elegance and the artistic folk's vivid colors.
Manifesting rich Jaipur prints and patterns through our diligently curated hand woven fabrics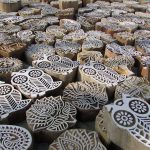 Maitri's sole objective is to promote Jaipur textiles' richness and precious local handcrafted skills that are hard to find. It provides customer satisfaction through our honed products that are locally handcrafted, offering elegance, comfort, class, and an enchanting personality. It uses hand-picked finely weaved cotton fabrics in wide ranges of cotton jakard, cotton silk, and self woven cotton fabrics.
Maitri sells high-quality Jaipuri fabrics crafted locally with incredible precision using primitive hand block print techniques, vegetable dyes, and rich embroidery techniques originated from the heart of Jaipur's local artisans.
Distinctive yet detailed pieces of art
When it comes to fashion, we offer you precisely handwoven yet detailed pieces of handwoven fabrics, including embroidered Kurtas, Jaipuri print Kurta sets, traditional yet contemporary designed Suit sets, and elegantly handcrafted ethnic dresses, all are at reasonable prices. Quality always stands over Quantity; likewise, we have given utmost attention to our Quality standards, proffering comfort, elegance, and royal class.
We have optimized traditional patterns that are the symbol of perseverance passing on from generation to generation. Be it Bagru print, Paisly print, Booti print, Jaal print, Lahariya print, Booti-embroidered print, – we have something unique to offer for everyone.
An Ode to Local Rajasthani Art and Textiles
Maitri, by Varuna and Sandeep Verma, is inspired by Jaipur's heritage beauty, moulded into hand block prints, Gota Patti, zardozi, and sequence works on a whole range of handwoven cotton and fabrics. The fabrics are curated to radiate grace and comfort with a hint of style to the person wearing the garment.
True to our brand's name: Maitri-a friendly wear, our garments are handcrafted with the utmost attention to comfort and use of pure, natural fabrics and vegetable and other eco-friendly dyes that are ethically sourced and manufactured—helping to create a simple and elegant piece.
Thus, we offer you the precisely honed traditional wear that is of high quality, texture, patterns, and fabrics are curated with timeless love, rich local art, and efforts.