Online Shopping in India is one of the most common form of entrepreneurship. While the ecommerce is increasing at a rapid pace and end-users get better deals, it is very difficult for new comers in this genre to stay for long time.
Flipkart, Amazon and Snapdeal have been the top three ecommerce players in India and they are doing pretty decently. There are also second level players such as Myntra, Jabong, YepMe, Paytm etc who have been doing fair job. But we must known that ecommerce in India is still not a game of profit  as the aggressive prices and discounts offers are often paid by Venture Capitalists.
While Amazon India is a subsidiary of Amazon Inc and have a decent amount to spend, Flipkart and Snapdeal have commitments of over $1 Billion. They are using this for acquiring larger share of customers by providing deals and discounts.
Interesting, as per stats available on respective sites, all of them are in loss. Have a look at below graph:
Flipkart Snapdeal Amazon Loss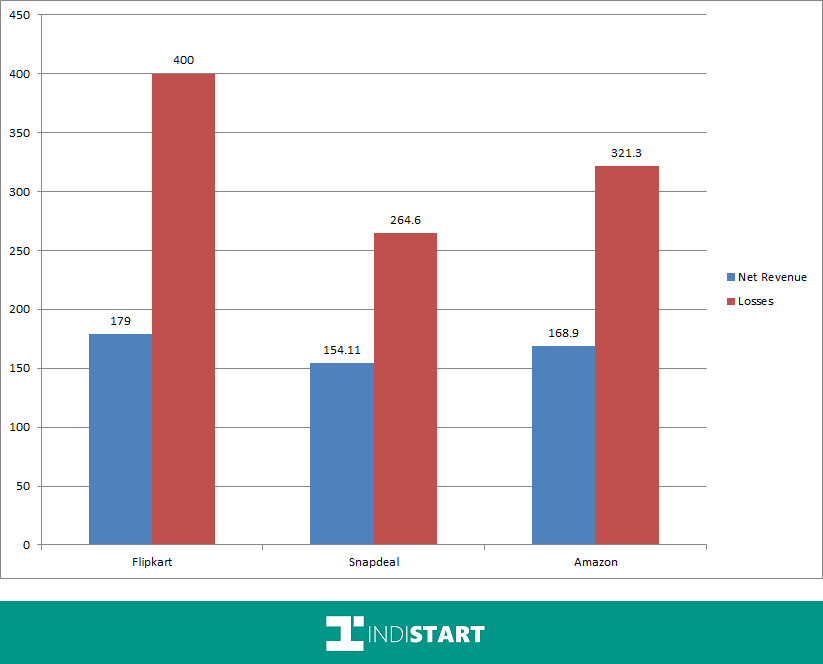 Please note that the revenue figures above are not the price of products sold (GMV), as these are all
marketplaces
, and their revenues come from commissions they get from sellers or listing fees that they charge to list the products on their site.
GMV or Gross Merchandize Value represents the price of products sold and net revenues is just a fraction of that!
Did the picture got a bit clear? Trust us guys, think of better ideas and innovation as eCommerce is not as good as it appears. We would like to know your verdict on Flipkart Snapdeal Amazon Loss Report.