Event Management has always been tedious task involving studying the brand, identifying the target audience, devising the event concept, planning the logistics and coordinating the technical aspects before actually launching the event and all this within stipulated time and budget constraints. You just cannot compromise with even small details that could lead to event's failure or annoying any of the guests. In today's fast pacing life, you need to hire professional, enthusiastic and reliable event planners to ensure the success of the event who could help you within your budget. Recently, we came across such an enthusiastic team of 25+ members who have been in event planning since May 2012 and have done many college and NGO events.
Erobern Events
Erobern Events offers complete solutions in • Designing • Printing • Logistics • Production • Merchandising • Customisation • Catering • Marketing • Celebrity Management for College Festivals, NGOs and Corporate! Soon launching a comprehensive gifting portal!
They also offer incentive based College Ambassador program where college students can work as a part of Erobern team in organizing an event, publicizing Erobern Events in their college and providing contact details of the student coordinators of the various events.
About Founder/Co-Founder
Vishal Sonwane, Founder and MD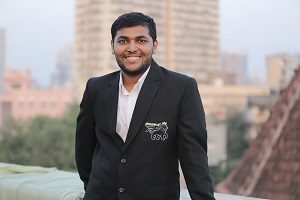 Vishal Sonawane is young entrepreneur from Mumbai, IISM alumnus pursuing MBA in Sports Management. He started his journey of entrepreneurship in 2012 with Erobern Events and started with another venture Leaf-Printsperts in January 2015.
Srini Chandrashekhar, Co-​Founder & Director
Srini Chandrashekhar is Entrepreneurship enthusiast, Co-Founder and Director at Erobern Events. He Studied Environmental Science at SIES(NERUL) College of Arts, Science and Commerce.
Advice for budding startups
Only one word for the people who are wondering and doubtful about their idea, START!
For those who have already started working on their ideas, the journey will be an uphill road, will be full of hardships, sacrifices, hard work but the view from the top will be worth all of it!