Where to Go if You're looking for a Second Opinion?
It's always a smart decision to get a second opinion if you've been diagnosed with a life-changing or life-threatening disease. Getting a second opinion helps you to gain more knowledge of your condition and the treatment options available which eventually helps you to make more informed decisions that can have long-term consequences on your life.
The infographic "Seeking a Medical Opinion From World Class North American Specialists" complied by Yourdoctors.Online is created with an aim to guide the users on why to seek a second opinion and how they can benefit themselves and their loved ones with this option.
Did you know that up to 68% of people had a change in their diagnosis or treatment plan after getting a second opinion? Yes, that's right! Hence, getting a second opinion on your diagnosis will not only help you be surer and confident about your treatment but will also help you to save a good amount of money which would've been otherwise wasted on unwanted surgeries due to a misdiagnosis.
With Yourdocors.online, you're able to get a comprehensive report of each case and a detailed medical report meeting international standards. You also get an access to in-house specialists' panel to answer your common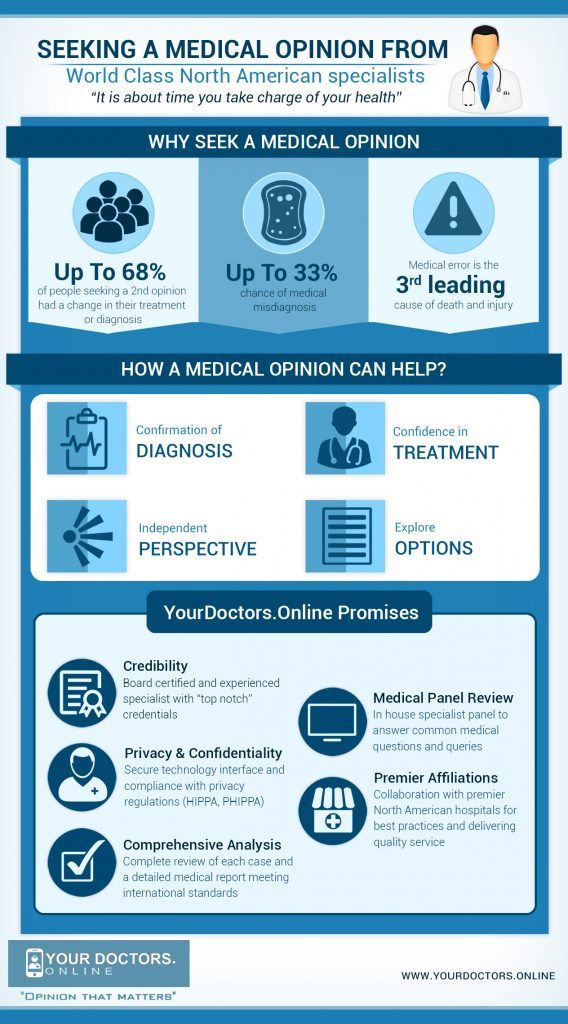 medical questions. Please visit the given infographic to explore more about their services.